Our History
In 1976, the fashion aficionados at "Saroj Fabrics" took the plunge into the retail world.
What was initially founded as a wholesale textile business has now transformed into a massive fashion fabrics brand.
Looking back on our fruitful journey gives us immense pleasure.
We would love to take you through a brief timeline of our success.
1998 marks the dawn of Saroj Fabrics. We started our well-thought-out store in Khar, Mumbai in a 2500 sq. ft. sightly showroom.
With strong roots & rising market demand, on 12th May 2013, we branched out in Borivali, Mumbai in a 3000 sq. ft. mighty showroom.
2016 is the celebratory year when we marked a memorable milestone! We converted our 12 years old static website into an eCommerce shopping site to serve you better.
With great market response and a responsibility to spread our wings farther, on 29th January 2017, we introduced our store in Pune in a beautiful 2000 sq. ft. space.
In May 2019, We had the pleasure of opening our largest store in Jaipur within a 4500 sq. ft. space.
And we know that this is just the beginning! We will keep blazing the trail with quality & style that marches every consumer's requirement.
A Legacy of
30 years
Saroj fabrics, aims to provide every individual a vast selection of top-notch fabrics and products, accessible customer service and forward-thinking usability. Our fabrics ranges are for All Occasions and Themes, be it for the Spring, a Cocktail or a Wedding. Our Patterns, Designs, Colours and Quality gets updated every day with the latest Trends in Fashion.
With over three decades of experience, Saroj Fabrics has earned great respect and recognition among various Fashion Houses, Designers and the Public as well. We showcase an array of products ranging from Exclusive Fashion Fabrics, Dress Materials and Unstitched Suits to Kurtis, Borders, Stoles and Dupattas. Our longstanding and strong relationship with vendors, mills and weavers helps us to provide you with the best and most hard-to-find fabrics. Our team has spent decades building relationships with the suppliers.
Showrooms
Saroj Fabrics Flagship stores are located PAN India at the below mentioned locations
The ambience in the showroom only portrays the style and elegance that is ostensibly seen in our Fabrics. These Fabrics, in their
endless variety, will leave you spoilt for choice.
Khar, Mumbai
Borivali, Mumbai
Pune
Jaipur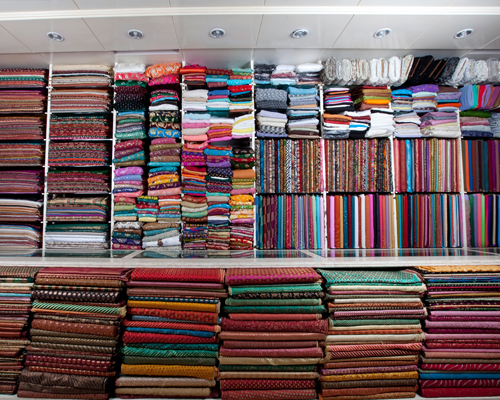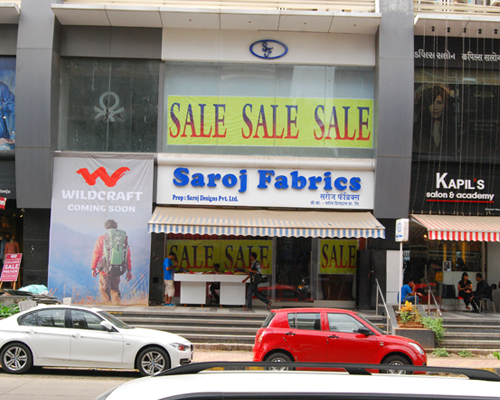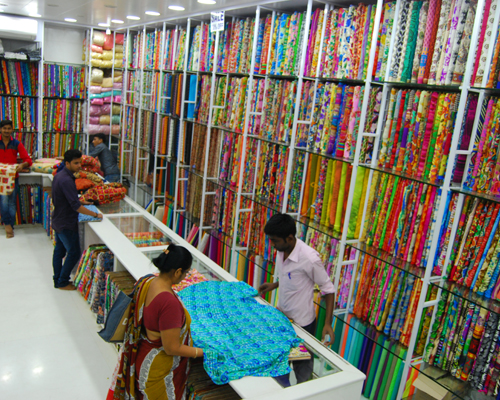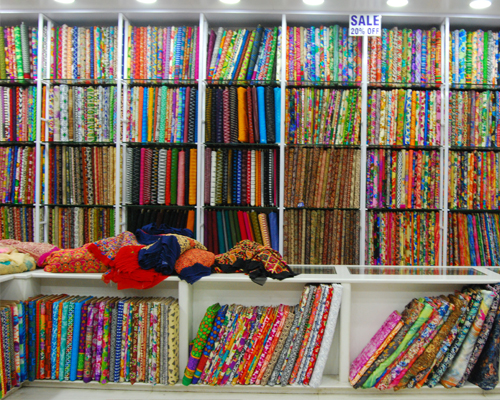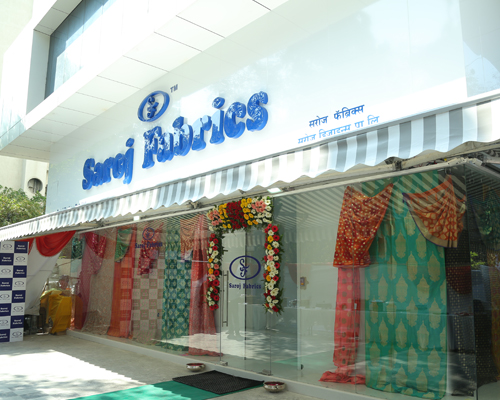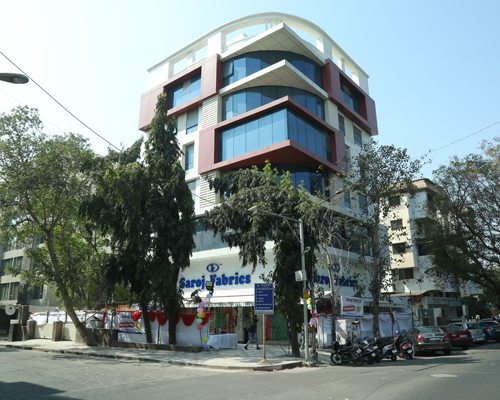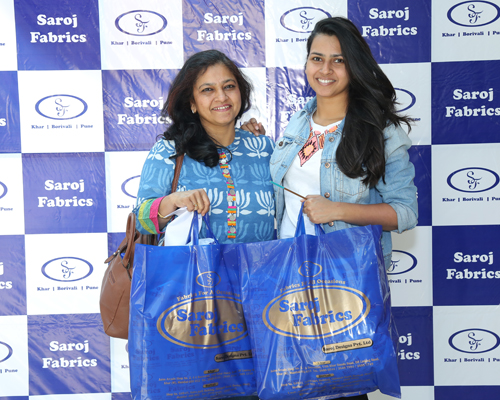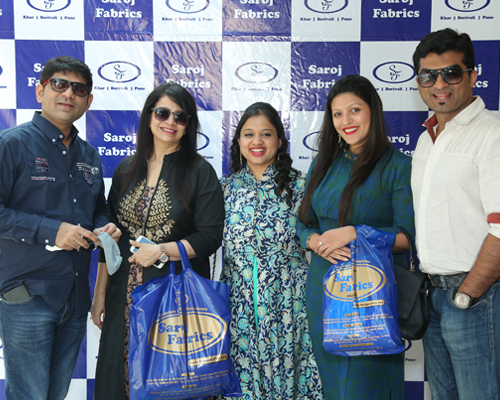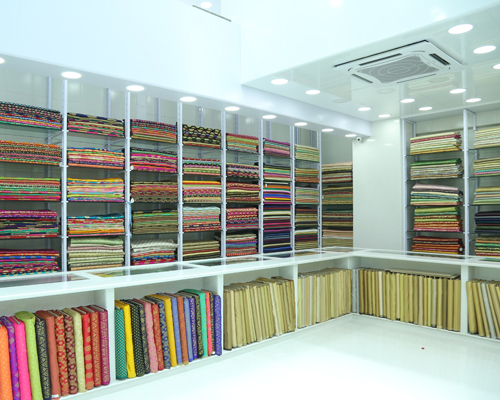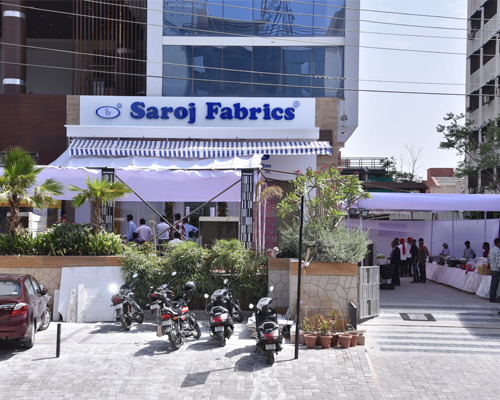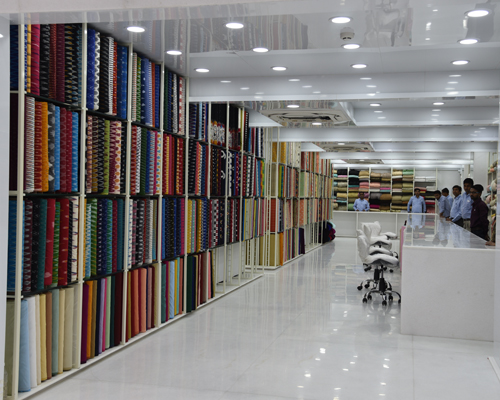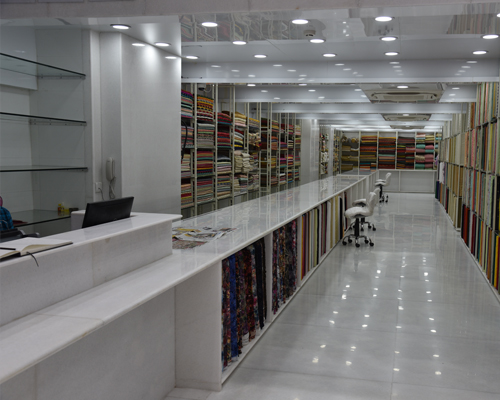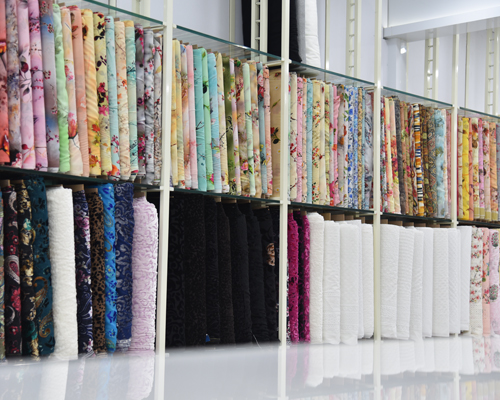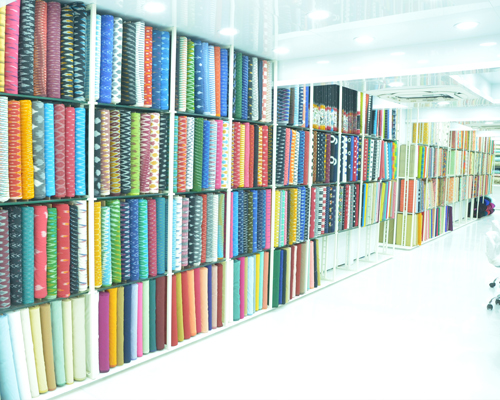 Clientele
We are constantly inspiring aspiring designers and other creative people who are looking to make something distinctive and original. Our fabrics are sought after by a wide range of customers including across the globe. Saroj Designs Pvt. Ltd. maintains strong Customer Relationships and sets the standard for valued Quality at Affordable Prices. It aims to not just fulfill every dressing requirement of our customer but to exceed their expectations.
Brides
Individual
Fashion Designers
Bollywood
Television
Fashion Industry
Exporters
Boutique Owners
All The Latest Trends Under One Roof
Haven't we all wished to dress similar to our favourite celebrity or fashion icon? Haven't you thought of getting fancy designer drapes for your home? Celebrations happen once in a while, thinking about making them grand? If your answer is a big Yes! Then you have landed on the right page. There is something for everyone and every occassion. For years, Saroj Fabrics has bee n the backbone of various big fashion houses, celebrities styles and runway shows. We have clients in the UK, Australia, Dubai, USA, Canada & more. We have gained the trust with our excellent customer service, knowledge and grand collection. No matter the occassion, Saroj Fabrics has all new trendy fabric to style your needs.
Online shopping for Menswear Fabrics
We, at Saroj, have all that you need to spruce up the fashion game of your Kids. They get to look extra cute with the garments made from our wide collection of fabrics.
Online shopping for Menswear Fabrics
Traditional sherwanis or boho indie shirts, whatever your pick is, we have a fabric to help you up your fashion quotient.
Online shopping for Womenswear Fabrics
You don't have to spend a fortune to look like your favourite celebrity. Whether it is a gown, lehenga, sari, kurta, tunic, shirt or blouse, we showcase the most trending fabrics chosen by the fashion savvy elites.
Convenient shopping for Home Decor & Furnishing Fabrics
Shop online for Home, event & temple décor and furnishing, including bedding, curtains, and more. We help you set up your home the way you have dreamt it to be, from the comfort of your home.
Avail added online shopping benefits
Make sure to explore our moodboard feature to mix n match between fabrics and choose the right combination. A length conversion chart and detailed product descriptions coupled with HD product shots give you all the information to take the right buying decision
Give your wardrobe a stylish upgrade
Create your own silhouettes and style your garments using fabrics with heavy embroidery, prints or solid colors from our handpicked collection.
High Quality Fabrics
At Saroj Fabrics, we understand that fabric is the root of every design or decor you have in mind. Hence, we guarantee to provide only the best to you.
Great Customer Service
For 21 years, we have continuously provided the best service to our customers in this industry. Have a doubt? Not able to find your choice of fabric? Just Ask! Our team is here to help.