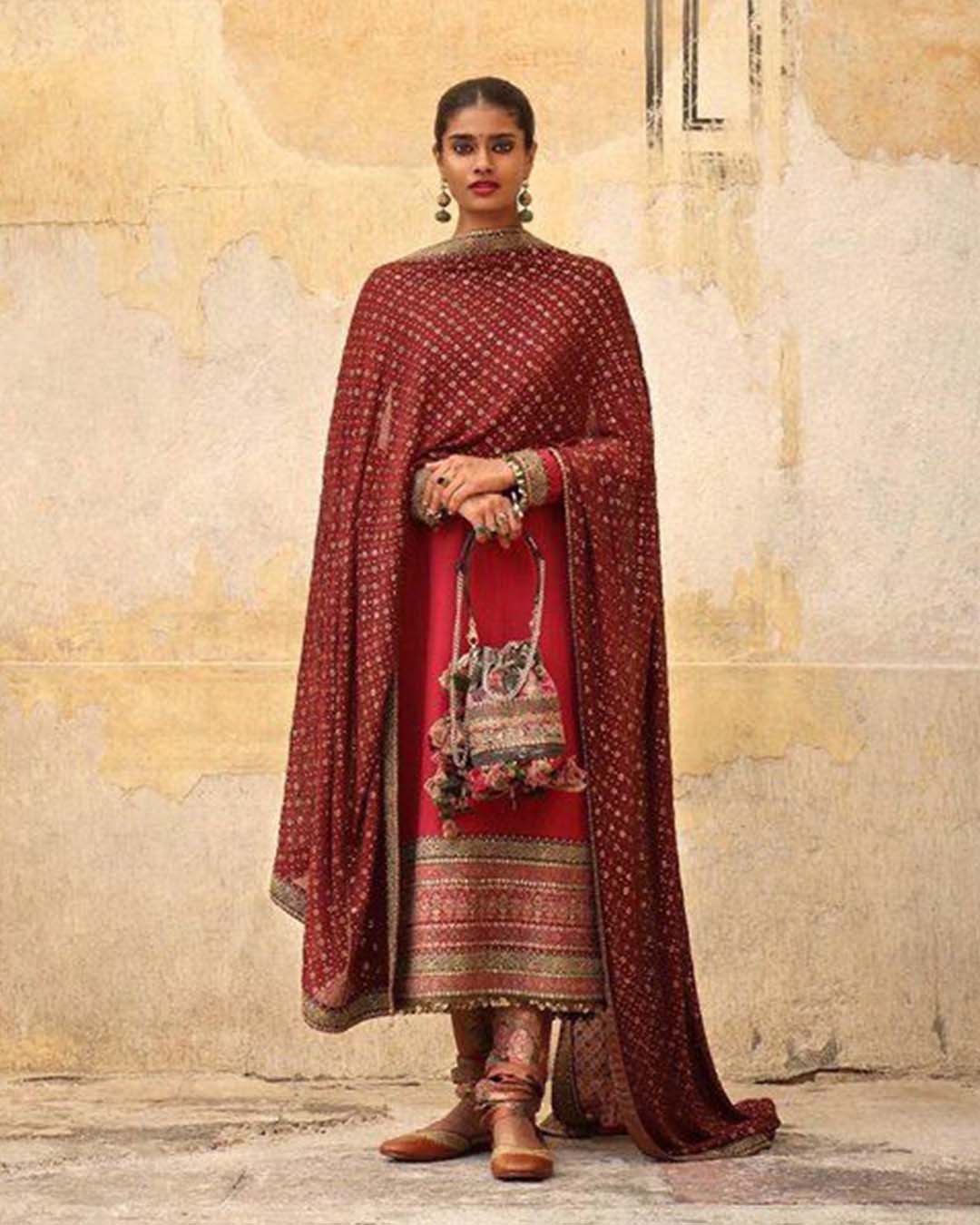 Who doesn't love designer looks?
All of us definitely do but what if we can help you recreate a designer look at less than quarter the price!
Wouldn't it be more amazing?
Well you can do it this Karvachauth with Saroj Fabrics. Sabyasachi as a brand is known for their traditional looks that are clean and subtle. Here we'll recreate this suit which is perfect for different occasions but will shine bright this Karvachauth.Let us break this outfit for you:
1)The Kurta: (https://www.sarojfabrics.com/fabrics/plain-fabrics/pure-silk)
The kurta can be designed using pure silk fabrics just like in the image. You can enhance it by using different hand work laces at the bottom of it and hence leaving much more space at the top to shine.
2)The Duppata: (https://www.sarojfabrics.com/fabrics/fabric-types/georgette)
Duppata is the highlight of this suit and hence it has to be gorgeous. You can make the duppata using georgette fabric as the base and can also get handwork done on it. At Saroj Fabrics we also have dyeable fabrics with hand work details which can be dyed to match your suit. To make this even more easier for you we have a section of ready-to-wear duppatas which are perfect for different suits and lehengas.
3)Bottom or Churidar: (https://www.sarojfabrics.com/fabrics/fabric-types/brocades-banarasi-silk)
As compared to the currently trending pant style bottoms the classic churidar adds a grace to this outfit. It is made using banarasi silk with floral design in golden thread which looks absolutely regal. The best part is it doesn't have any handwork or work done but is classic on its own.
The best part about this suit is that is the right amount of glam yet chic and can be styled at different festivals apart from Karvachauth.
Visit Saroj Fabrics and get your festive outfits ready now.
Saroj Fabrics is India's most famous "Designer Fabrics" store, located Pan India in Mumbai (Khar, Borivali), Pune and Jaipur; Shop Online : https://www.sarojfabrics.com
- Saroj Fabrics (Khar, Mumbai) : Jain Arcade, Shop No.2,4 or Basement, 14th Khar Danda Road, Off. Linking Road, Khar (West), Mumbai 400052. Tel: (022) 26000544 / 26487594 / 26055749 ; Whats app no: +91 9930027490; +91 81089 71305; Directions : https://g.page/SarojFabrics
- Saroj Fabrics (Borivali, Mumbai) : Shop No. G40-41, Satra Park Building, Shimpoli Road, Borivali (West), Mumbai 400092. Tel: (022) 28996446 / 48; Whats app no: 9930027480, +91 93218 34891; Directions : https://g.page/SarojFabricsMumbai
-Saroj Fabrics (Pune) : RK One, Dam Road, Off. Moledina Road, Next to Shantai Hotel, Rasta Peth, Camp, Pune 411011. Tel : (020) 26141242 / 43; Whatsapp no : +91 7774881824; Directions : https://g.page/SarojFabricsPune
- Saroj Fabrics (Jaipur) : Signature Towers, G-3,Opp. Nehru Bal Udyan, Behind Apex Bank, Tonk Road, Lalkothi, Jaipur 302007. Ph: (0141) 2741005 / 06; WhatsApp no. : +91 8306522473; Directions Link: https://g.page/SarojFabricsJaipur
- Shop Online : www.sarojfabrics.com
Follow Saroj Fabrics on following social media:
Instagram: www.instagram.com/sarojfabrics ; Facebook: www.facebook.com/sarojfabrics ; Twitter: https://twitter.com/sarojfabrics ; Youtube: https://www.youtube.com/channel/UCVZ2YXKETKXXqRYqBrebggg ; Pinterest: https://in.pinterest.com/sarojfabrics LinkedIn: https://www.linkedin.com/company/saroj-fabrics