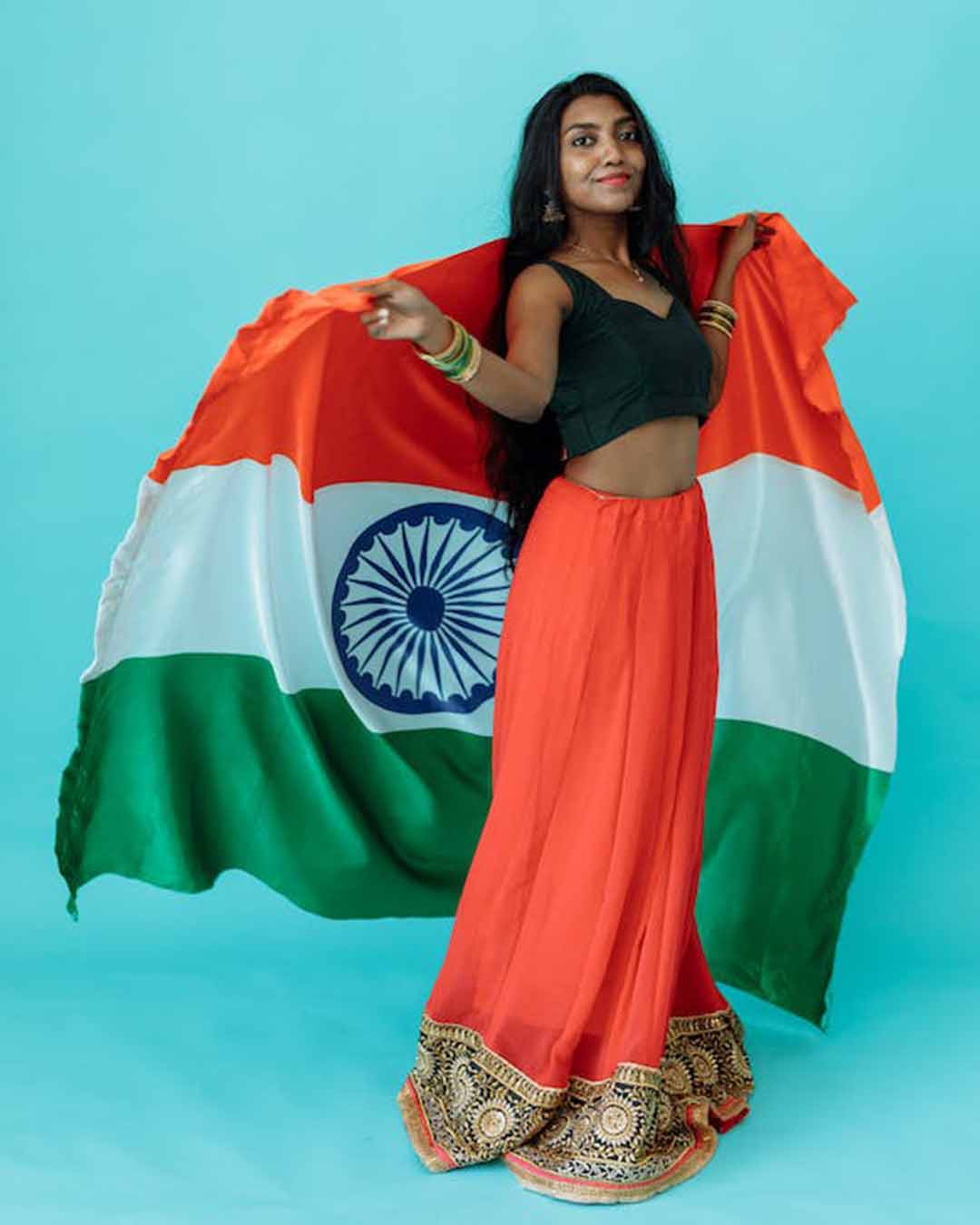 Add these patriotic colours in you this year's Independence day outfit!
We all love our nation and it is always fun to dress up for holidays.This 75th Independence day it is time to add some fun to your rather white outfit with these stunning fabrics.The outfits can be made for your children and you can always match it with them or just wear it for not just for Independence Day but for other occasions as well:
1)Using Tri-colour Duppata:
This duppata can be made combining different fabrics majorly orange and green in colour. It can also be different heavy fabrics to give it a different look. This duppata can then be paired with different outfits that make it all the more versatile.
2)Tie-Dye Fabric (Link: https://www.sarojfabrics.com/fabrics/prints-embroideries/shibori-tye-dye-batik)
Tie-Dye fabric has been in fashion for quite sometime now. It is infact the newest trend in industry especially for traditional wear. We have a range of tie-dye fabrics on the store in all shades possible which can be converted into making different outfitz. Tie-Dye outfit in maybe orange or green will look absolutely gorgeous not just on 15th August but for all other occasions as well.
3)Kurtas with embellishments:
We all have white kurta at home. The trick is to make it more versatile. Get different coloured fabric from Saroj Fabrics and use this fabric as a border on your sleeves,neck and bottoms as well. It will instantly elevate your outfit giving it the perfect patriotic look but also can be removed when necessary which keeps the kurta set as it is.
Our idea at Saroj Fabrics is to help you have a minimal wardrobe while also brining in new ways in which you can style our fabrics at different occasions and make them all the more versatile and heavy.
Do visit our stores today and check out the large variety of different fabrics available with us.
Saroj Fabrics is India's most famous "Designer Fabrics" store, located Pan India in Mumbai (Khar, Borivali), Pune and Jaipur; Shop Online : https://www.sarojfabrics.com
- Saroj Fabrics (Khar, Mumbai) : Jain Arcade, Shop No.2,4 or Basement, 14th Khar Danda Road, Off. Linking Road, Khar (West), Mumbai 400052. Tel: (022) 26000544 / 26487594 / 26055749 ; Whats app no: +91 9930027490; +91 81089 71305; Directions : https://g.page/SarojFabrics
- Saroj Fabrics (Borivali, Mumbai) : Shop No. G40-41, Satra Park Building, Shimpoli Road, Borivali (West), Mumbai 400092. Tel: (022) 28996446 / 48; Whats app no: 9930027480, +91 93218 34891; Directions : https://g.page/SarojFabricsMumbai
-Saroj Fabrics (Pune) : RK One, Dam Road, Off. Moledina Road, Next to Shantai Hotel, Rasta Peth, Camp, Pune 411011. Tel : (020) 26141242 / 43; Whatsapp no : +91 7774881824; Directions : https://g.page/SarojFabricsPune
- Saroj Fabrics (Jaipur) : Signature Towers, G-3,Opp. Nehru Bal Udyan, Behind Apex Bank, Tonk Road, Lalkothi, Jaipur 302007. Ph: (0141) 2741005 / 06; WhatsApp no. : +91 8306522473; Directions Link: https://g.page/SarojFabricsJaipur
- Shop Online : www.sarojfabrics.com
Follow Saroj Fabrics on following social media:
Instagram: www.instagram.com/sarojfabrics ; Facebook: www.facebook.com/sarojfabrics ; Twitter: https://twitter.com/sarojfabrics ; Youtube: https://www.youtube.com/channel/UCVZ2YXKETKXXqRYqBrebggg ; Pinterest: https://in.pinterest.com/sarojfabrics LinkedIn: https://www.linkedin.com/company/saroj-fabrics