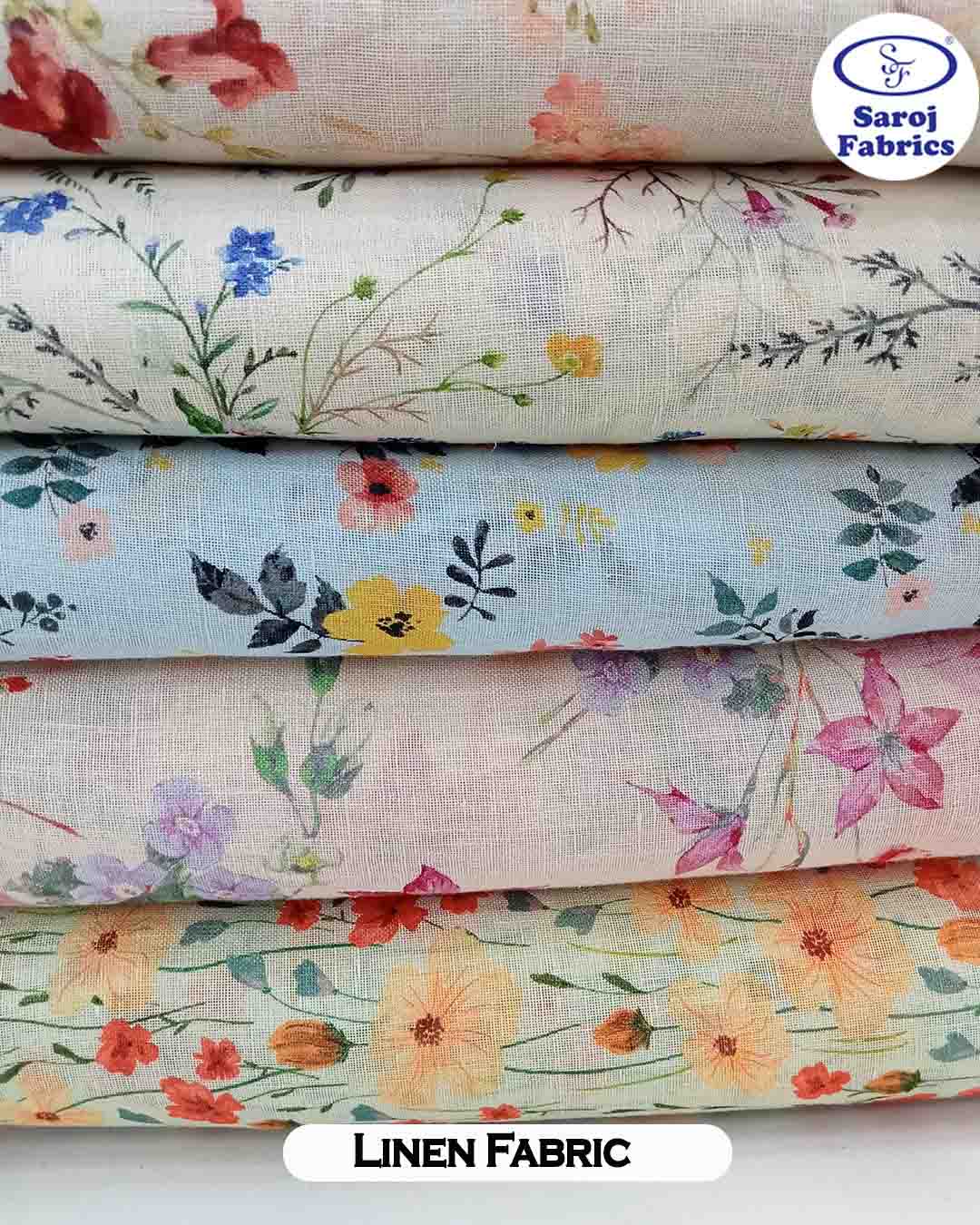 Rains like always come in and make everything green but also confuse us constantly! We are often in a dilemma as to what we can wear in this season which is neither very hot nor very cold but has a lot of festivals coming in. The season is full of events and like every other event we want to dress up but in a comfortable outfit because let's accept none of us like heavy outfits when it raining outside.
Well,Saroj Fabrics has the right solution to your monsoon woes this season with its newly printed Linen fabrics. (https://www.sarojfabrics.com/fabrics/fabric-types/linen)
Linen is a flax-based textile that is predominantly used for homeware applications. While linen is similar to cotton, it is made from fibers derived from the stems of the flax plant instead of the bolls that grow around cotton seeds.
Garments made of linen are desirable in hot and humid climates. Unlike cotton, which tends to retain moisture for a significant period of time, linen dries quickly, which makes it perfect for this monsoon season.
Our printed fabrics are available in many different prints making it the perfect fabric for everything from kurtas to gowns,from shirts to nehru jackets.
You name it and you have it.It is a very light weight fabric making it the right choice for every occasion to dress it up and dress it down.
https://www.sarojfabrics.com/fabrics/fabric-types/linen
The idea is to carry something which is not only light but very classy!
On this fabric you can also get some handwork done and it becomes the right choice for a pool party outfit.
So,now visit Saroj Fabrics and pick your right choice before all the pretty floral prints get over!
Visit our stores now.
Saroj Fabrics is India's most famous "Designer Fabrics" store, located Pan India in Mumbai (Khar, Borivali), Pune and Jaipur; Shop Online : https://www.sarojfabrics.com
- Saroj Fabrics (Khar, Mumbai) : Jain Arcade, Shop No.2,4 or Basement, 14th Khar Danda Road, Off. Linking Road, Khar (West), Mumbai 400052. Tel: (022) 26000544 / 26487594 / 26055749 ; Whats app no: +91 9930027490; +91 81089 71305; Directions : https://g.page/SarojFabrics
- Saroj Fabrics (Borivali, Mumbai) : Shop No. G40-41, Satra Park Building, Shimpoli Road, Borivali (West), Mumbai 400092. Tel: (022) 28996446 / 48; Whats app no: 9930027480, +91 93218 34891; Directions : https://g.page/SarojFabricsMumbai
-Saroj Fabrics (Pune) : RK One, Dam Road, Off. Moledina Road, Next to Shantai Hotel, Rasta Peth, Camp, Pune 411011. Tel : (020) 26141242 / 43; Whatsapp no : +91 7774881824; Directions : https://g.page/SarojFabricsPune
- Saroj Fabrics (Jaipur) : Signature Towers, G-3,Opp. Nehru Bal Udyan, Behind Apex Bank, Tonk Road, Lalkothi, Jaipur 302007. Ph: (0141) 2741005 / 06; WhatsApp no. : +91 8306522473; Directions Link: https://g.page/SarojFabricsJaipur
- Shop Online : www.sarojfabrics.com
Follow Saroj Fabrics on following social media:
Instagram: www.instagram.com/sarojfabrics ; Facebook: www.facebook.com/sarojfabrics ; Twitter: https://twitter.com/sarojfabrics ; Youtube: https://www.youtube.com/channel/UCVZ2YXKETKXXqRYqBrebggg ; Pinterest: https://in.pinterest.com/sarojfabrics LinkedIn: https://www.linkedin.com/company/saroj-fabrics