Mothers and daughters have always shared a sacred bond-a bond of friendship and care, where they can fight on the smallest of things and yet care like no one else can. They say daughters grow up fast and when it's time for them to leave your nest you are there just sitting there while they fly away with their memories. So for our pretty mommies out there why not create some fun memories with your daughters where you can match cute outfits with them and create memories that will last you a lifetime.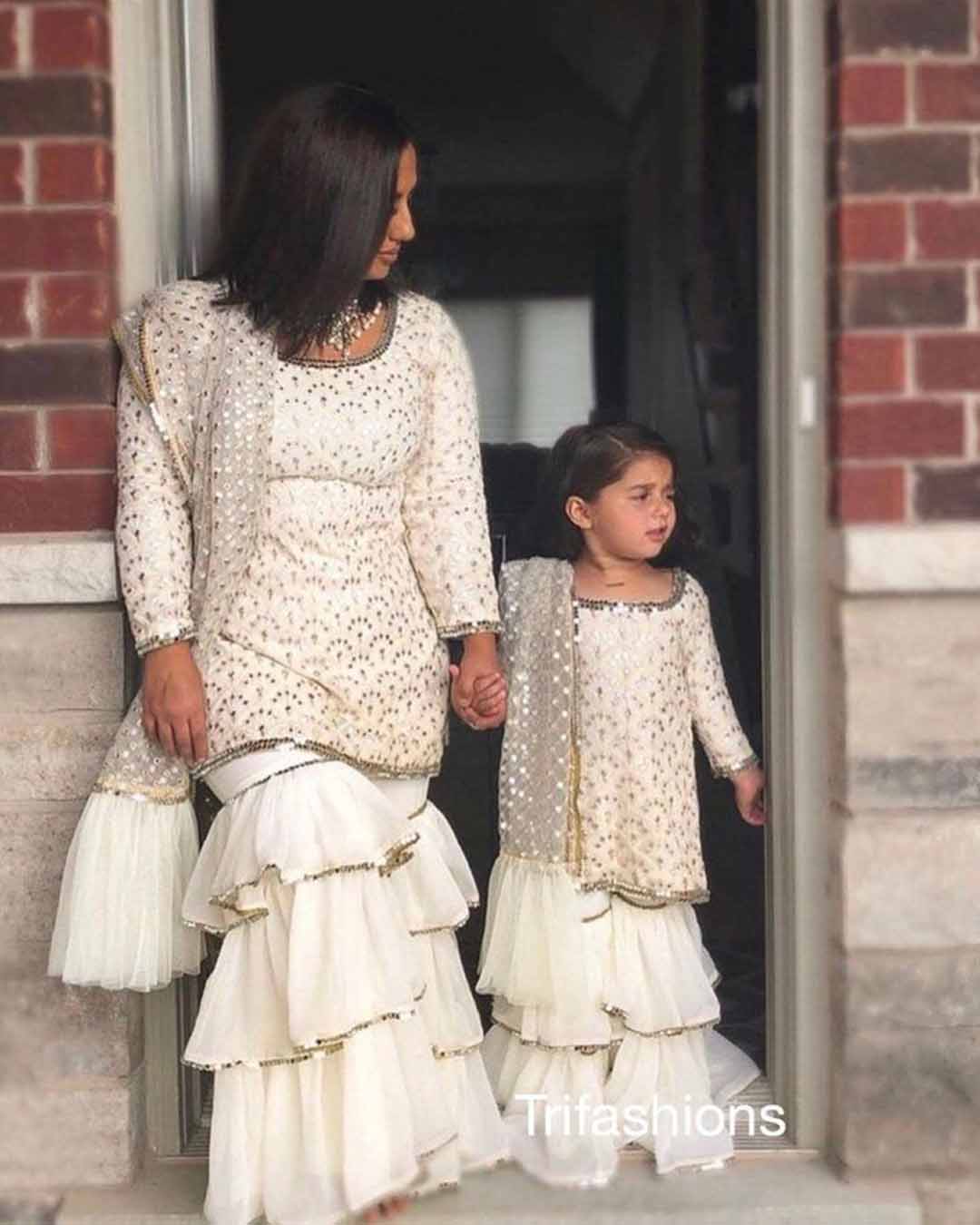 1)White on white is a classy affair for all occasions. Match in this cute gharara set with the top made of mirror work fabric (https://www.sarojfabrics.com/lucknowi-chikan-georgette-sf21544) and a cute cotton or chiffon gharara to pair with. The outfit has hints of golden adding the royal charm to the outfit.
2)Pink net gown with a tulle is what cute mother daughter goals are made of! This exquisite gown is perfect for parties and get together and can even be styled for your daughter's birthday party and is super easy to make as well with this self embroidered net fabric (https://www.sarojfabrics.com/pink-net-embroidery-fabric-sf20020).
3)What better way then to match your saree with your baby for a wedding? You have a saree and want to get matching outfit for your baby then visit us today to explore innumerable fabric options from chiffon to net where each fabric is of premium quality and has a charm of its own like this saree paired with with a cute dress.
Memories are all we have when our babies grow up so catch these moments and see how you catch yourself loving them as years pass by and you walk down the memory lane.
Team Saroj Fabrics wishes all Mothers a very Happy Mothers Day
Saroj Fabrics is India's most famous "Designer Fabrics" store, located Pan India in Mumbai (Khar, Borivali), Pune and Jaipur; Shop Online : https://www.sarojfabrics.com