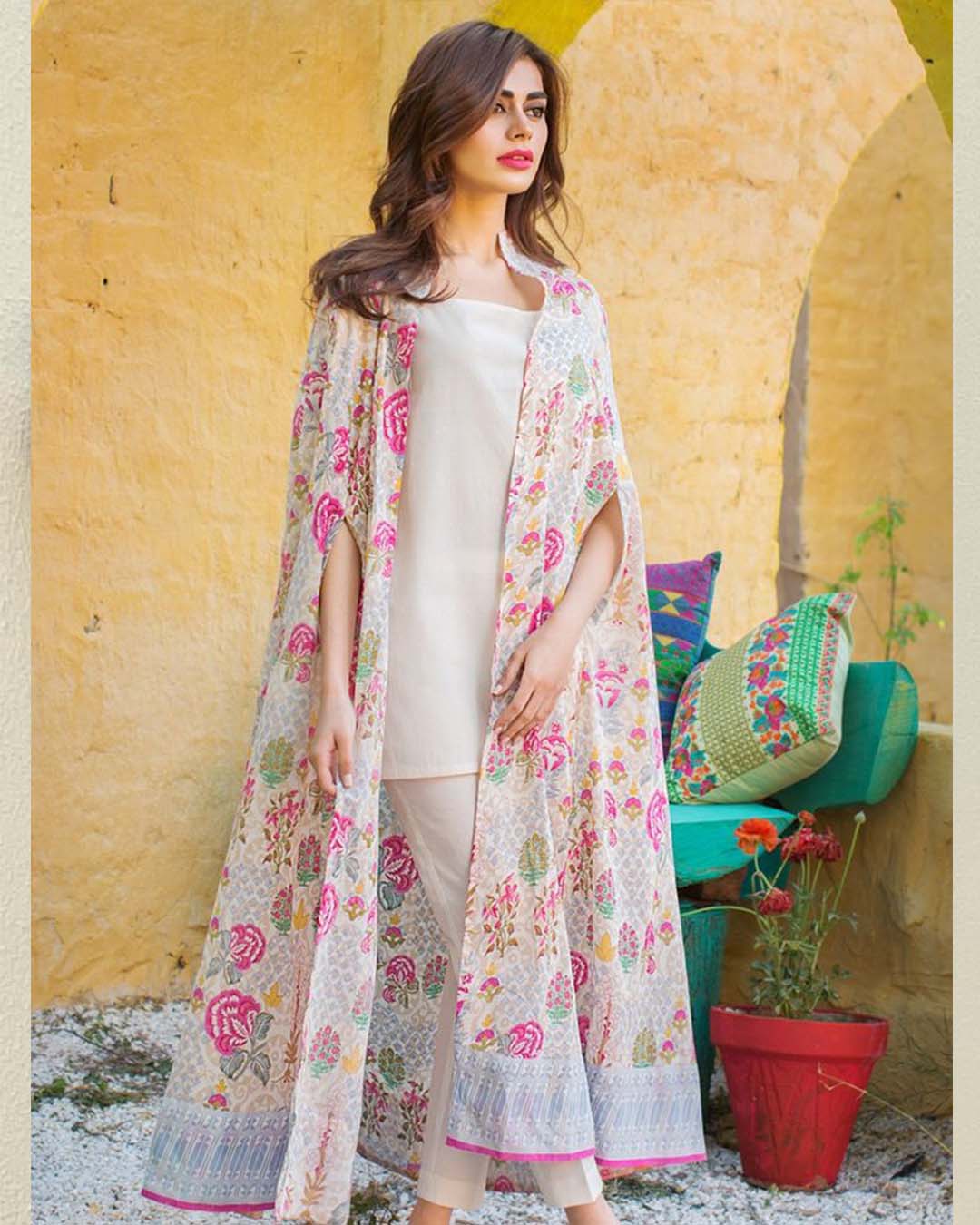 Kimono are the new Mimosas this summer season. Made from an easy breezy light fabric with adorable prints which are pleasing to the eye while also keep you airy is what perfectly explains a Kimono. Have a plain outfit and wondering how you can style it? Add a pop of colour with a kimono. Have a bikini set and want a beach cover up? Well Kimono is here to save the day! A kurta pyjama set you don't want to wear with a duppata? Make it into an indo-western outfit with a Kimono!
For all seasons a Kimono in different shades is a must have in your wardrobe. It can be styled in different ways with versatile outfits and see how it compliments all of them.
Here is an excellent example of how a simple co-ord set in neutral colours has been styled with Kimono adding a pop of colour to the outfit.
Kimonos like every other versatile piece of outfit can be made in different patterns and styles to suit every outfit you have. They are always that one statement piece in your wardrobe that you can wear over any outfit and make a complete new ensemble. Kimonos are your best friend for every occasion.
Different types of fabrics you can make Kiminos from:
1) Floral Prints: A fun way to add prints and colours to your outfit is by styling a kimino from Floral Printed Fabric
2) Geometrical Prints: An illusion giving fabric these type of fabrics are perfect to turn any outfit into an indo-western one.
3) Mirror Work Fabrics: A beautiful way to amp your small event outfits as they add a very different texture to the outfit. Visit our stores today and get every style of fabric to make different outfits.
Saroj Fabrics is India's most famous "Designer Fabrics" store, located Pan India in Mumbai (Khar, Borivali), Pune and Jaipur; Shop Online : https://www.sarojfabrics.com
- Saroj Fabrics (Khar, Mumbai) : Jain Arcade, Shop No.2,4 or Basement, 14th Khar Danda Road, Off. Linking Road, Khar (West), Mumbai 400052. Tel: (022) 26000544 / 26487594 / 26055749 ; Whats app no: +91 9930027490; +91 81089 71305; Directions : https://g.page/SarojFabrics
- Saroj Fabrics (Borivali, Mumbai) : Shop No. G40-41, Satra Park Building, Shimpoli Road, Borivali (West), Mumbai 400092. Tel: (022) 28996446 / 48; Whats app no: 9930027480, +91 93218 34891; Directions : https://g.page/SarojFabricsMumbai
-Saroj Fabrics (Pune) : RK One, Dam Road, Off. Moledina Road, Next to Shantai Hotel, Rasta Peth, Camp, Pune 411011. Tel : (020) 26141242 / 43; Whatsapp no : +91 7774881824; Directions : https://g.page/SarojFabricsPune
- Saroj Fabrics (Jaipur) : Signature Towers, G-3,Opp. Nehru Bal Udyan, Behind Apex Bank, Tonk Road, Lalkothi, Jaipur 302007. Ph: (0141) 2741005 / 06; WhatsApp no. : +91 8306522473; Directions Link: https://g.page/SarojFabricsJaipur
- Shop Online : www.sarojfabrics.com
Follow Saroj Fabrics on following social media:
Instagram: www.instagram.com/sarojfabrics ; Facebook: www.facebook.com/sarojfabrics ; Twitter: https://twitter.com/sarojfabrics ; Youtube: https://www.youtube.com/channel/UCVZ2YXKETKXXqRYqBrebggg ; Pinterest: https://in.pinterest.com/sarojfabrics LinkedIn: https://www.linkedin.com/company/saroj-fabrics