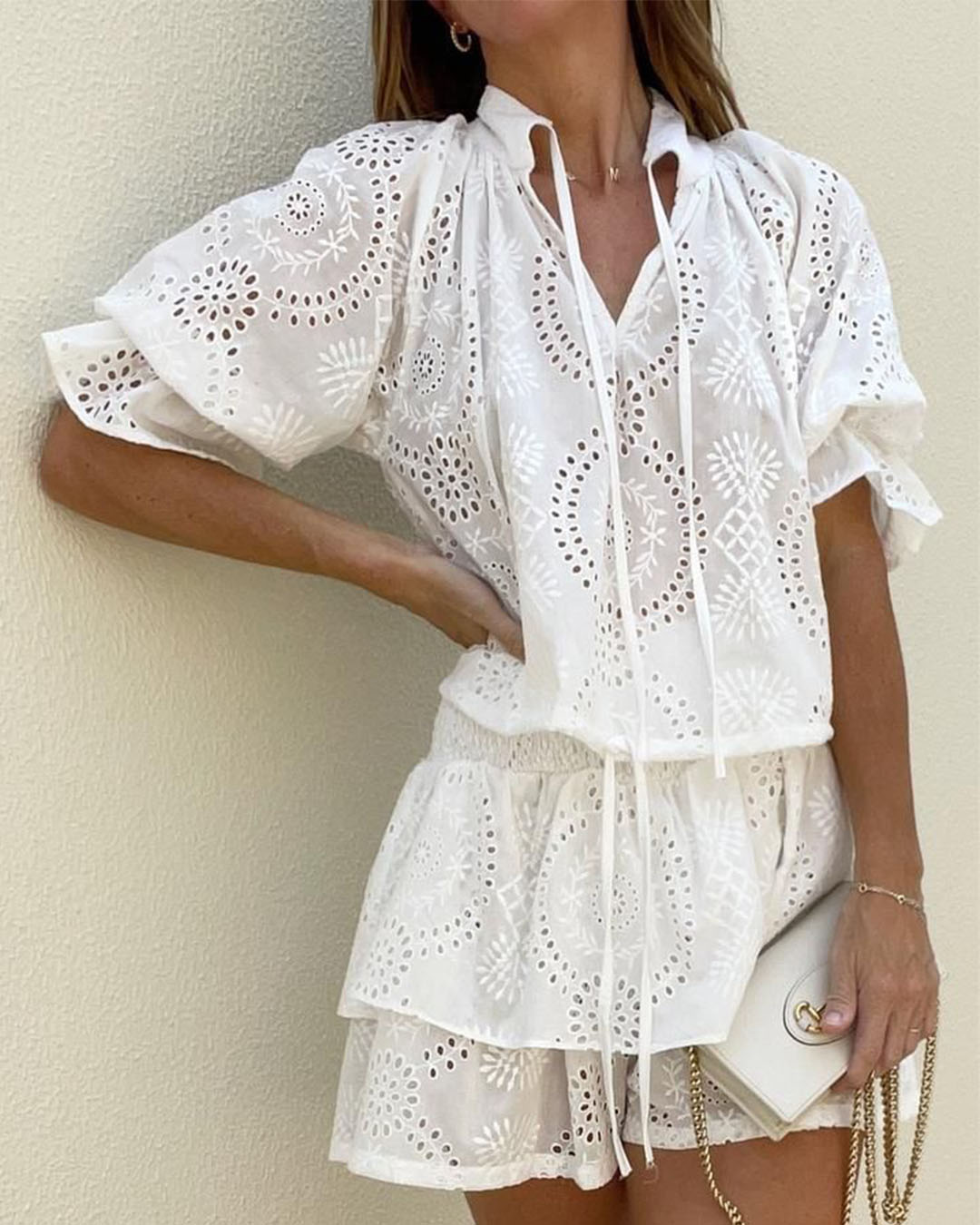 With the temperatures soaring and the warm summer breeze making you wish that a holiday in Italy is what you want at the moment!
Well, that is all of us!! Even if you are not wandering the streets of Positano one can surely make an outfit and make it like you are right?
Cutwork fabric is one of the most versatile and fashion-forward fabrics this summer holiday season. From dresses to tops every outfit has bits and pieces of cutwork designs attached to them. It looks absolutely chic and stylish and is super comfortable considering the soft cotton fabric, which helps keep you cool.
Dyeable in different colours with different designs makes this fabric so versatile. Usually available in pure white this fabric has an amazing look and it is possible to style it for every occasion. You can make anything from tops to dresses from this fabric and style it in multiple ways.
Here are a variety of cutwork fabrics available at Saroj Fabrics for your summer jumpsuits and tops: https://www.sarojfabrics.com/fabrics/embroidered-fabrics/embroidered-cotton
These fabrics are super soft and have different variations from zari to simple classic white. What can you make out of them?
1)Tops: One of the most worn and popular styles to turn a cutwork fabric is to turn it into a top. Super versatile and easy to style.
2)Dress: Another beautiful way to carry this fabric is to turn it into a classic dress be it a long dress or short dress this stylish cotton fabric can make you look the best-dressed person anywhere.
Visit us today at all our stores and explore a plethora of fabric options to make exquisite outfits out of them.
Saroj Fabrics is India's most famous "Designer Fabrics" store, located Pan India in Mumbai (Khar, Borivali), Pune and Jaipur; Shop Online : https://www.sarojfabrics.com
Saroj Fabrics (Khar, Mumbai) : Jain Arcade, Shop No.2,4 or Basement, 14th Khar Danda Road, Off. Linking Road, Khar (West), Mumbai 400052. Tel: (022) 26000544 / 26487594 / 26055749 ; Whats app no: +91 9930027490; +91 81089 71305; Directions : https://g.page/SarojFabrics

Saroj Fabrics (Borivali, Mumbai) : Shop No. G40-41, Satra Park Building, Shimpoli Road, Borivali (West), Mumbai 400092. Tel: (022) 28996446 / 48; Whats app no: 9930027480, +91 93218 34891; Directions : https://g.page/SarojFabricsMumbai

Saroj Fabrics (Pune) : RK One, Dam Road, Off. Moledina Road, Next to Shantai Hotel, Rasta Peth, Camp, Pune 411011. Tel : (020) 26141242 / 43; Whatsapp no : +91 7774881824; Directions : https://g.page/SarojFabricsPune

Saroj Fabrics (Jaipur) : Signature Towers, G-3,Opp. Nehru Bal Udyan, Behind Apex Bank, Tonk Road, Lalkothi, Jaipur 302007. Ph: (0141) 2741005 / 06; WhatsApp no. : +91 8306522473; Directions Link: https://g.page/SarojFabricsJaipur

Follow Saroj Fabrics on following social medias:

Instagram: www.instagram.com/sarojfabrics ; Facebook: www.facebook.com/sarojfabrics ; Twitter: https://twitter.com/sarojfabrics ; Youtube: https://www.youtube.com/channel/UCVZ2YXKETKXXqRYqBrebggg ; Pinterest: https://in.pinterest.com/sarojfabrics ; LinkedIn: https://www.linkedin.com/company/saroj-fabrics